Yesterday it was a holiday in Argentina so I spent the day painting a new Mandala :)
Last week I painted the one below which I really LOVE!
I so loved painting it that I tried to do something similar but this time with watercolors.
I am used to build my Mandalas from the center to the outside
step by step.
I start with a small circle, I design some geometry, then I add some paint.
In this case I used watercolor pencils and watercolor cakes.
At last I addes some fine marker embellishments which is the funniest part!!
Once the 1rst circle is totally finished I add a 2nd one and start all the process again :)
you may ask why do I work on this way?
why don´t I design the full Mandala at once and then paint it?
ok, this is on of my big secrets ;)
working like this helps me to stay IN THE PRESENT, with no furder expectations.
It helps me to stay open to any new ideas I may have.
It allows me to change things in the way.
But mostly it keeps me free of any conditioning or restrictment
and even though I enjoy it I have to say it
Colored pencils where my 1rst love and I keep loving them more and more.
but I must add painting Mandalas with colored pencils is always like home ♥
I´m giving away 2 FREE spots!
How to participate?
There are several ways:
You can:

Share the button below on your blog or website


(just copy the following code and paste it on a html gadget)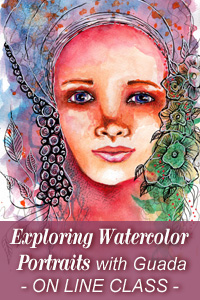 or:
Share the class link below on facebook, twitter, or any other social media
http://bit.ly/EWP_onlineclass
>>>> This last step its important! Please don´t miss it.
Once you shared the info please come back and let me a comment
or send me a message from the form here in the right column
with the link where you´ve pasted the button or link.
The lucky winners will be announced next Sunday 12 of July
Everybody can take part, if you have already signed up I´ll make you a refund :)
See you tomorrow ♥